Water Quality Assessments
Mukilteo Tank Farm Pier Demolition and Dredging Water Quality Monitoring
Pacific Pile & Marine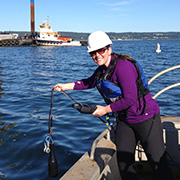 Washington State Ferries and the Federal Transit Administration are relocating the ferry terminal in Mukilteo to improve safety and reliability of operations for vehicle and passenger traffic, and reduce congestion along Mukilteo's waterfront. Pacific Pile and Marine is demolishing an existing pier and dredging the shoreline at the new terminal location. Meridian was retained to train employees in water quality monitoring methods to ensure compliance with turbidity, pH, and chemical standards throughout the construction period. Removal of the existing pier will eliminate thousands of tons of toxic, creosote-treated pilings from Puget Sound.
Swift No. 2 Hydroelectric Project Water Temperature and TDG Monitoring
Cowlitz County PUD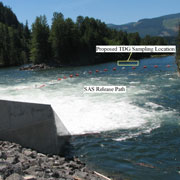 Meridian consulted with the Department of Ecology, prepared a Water Quality Monitoring Plan, and conducted water temperature and TDG monitoring studies in the project power canal, surge arresting structure, and tailrace over a 10-year period. Hourly data was compiled, analyzed, and graphed to evaluate compliance with state water quality standards and the monitoring results were documented in a series of annual technical reports.
Twin Falls Hydroelectric Project Water Temperature and Dissolved Oxygen Monitoring
Enel North America
Meridian monitored water temperature and dissolved oxygen for two years in reaches of the South Fork Snoqualmie River using two Hydrolab MiniSondes. Data were downloaded monthly to evaluate whether any exceedences of state water quality standards were a function of project operations or natural conditions. Hourly data were graphed and analyzed to determine monthly and daily maximums, means, and minimums, and temperature data were expressed as seven-day averages (7-DADMax). We also consulted with resource agencies and tribes, prepared annual technical reports and a successful Section 401 permit application to modify the project's required minimum instream flow releases.
Stafford Creek Correctional Facility Utility Corridor, WA
City of Aberdeen
Meridian staff developed and implemented a water quality monitoring program during installation of 22 miles of sewer, water and gas pipelines to a new prison. The project involved directional drilling beneath several salmonid-bearing waterways and construction in 20 miles of saltwater wetlands adjacent to high value commercial shellfish operations. Our full-time field crew provided daily sampling results from multiple work sites that we compiled in an extensive MS Access database developed to organize sampling results at each monitoring site. Data was analyzed for compliance with state standards and for same-day reporting to the state and construction managers.