Writing, Editing, and Document Production
San Joaquin River Restoration Program
US Fish and Wildlife Service
As part of a team conducting fisheries restoration feasibility analyses and drafting fisheries implementation plans, Meridian contributed technical writing, editing and meeting documentation services. We participated in developing a salmonid implementation plan, a fish passage feasibility assessment, Chinook salmon reintroduction plan, and a broodstock management plan. In addition, Meridian documented multi-day planning sessions and provided in-meeting document drafting services.
Technical Reports and Support to the Columbia River Hatchery Scientific Review Group
NOAA Fisheries and Bonneville Power Administration, with DJ Warren & Associates
Over this two year assignment, Meridian compiled and edited 246 individual reports on 351 populations of salmon and steelhead found in the Columbia River Basin, 34 ESU/DPS summary reports, interim species recommendation reports, and a final summary report of all findings and recommendations. We managed many iterations of each component and the electronic file production for web posting and hard copy production.
Kootenai Native Fish Conservation Aquaculture Program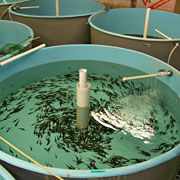 Kootenai Tribe of Idaho and Bonneville Power Administration, with DJ Warren & Associates
Meridian developed a Master Plan to expand the Kootenai Tribe's existing sturgeon aquaculture program, adding a state-of-the-art experimental production facility for both Kootenai white sturgeon and burbot. Burbot had not previously been cultured anywhere in the world. Meridian also provided environmental compliance services in collaboration with design engineers. We prepared a Biological Assessment, provided technical support for BPA's NEPA compliance, and obtained all construction permits.
Southeast Alaska Communication Sites
AP&T Wireless, Alaska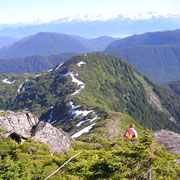 Since 2006 Meridian has prepared environmental reports and permitting documents for numerous microwave tower projects on the Tongass National Forest. Our studies and reports help AP&T move from feasibility decisions to construction. Documentation prepared for these projects include site selection feasibility reports, environmental assessments, biological evaluations, Forest Plan amendments, FAA, Corps of Engineers, and Forest Service Special Use Permits, and construction permitting for local jurisdictions. Meridian's reports provide a clear and concise description of project activities and potential effects for State and Federal agency reviewers, thereby expediting their approval.