Aquaculture Programs
Kootenai Native Fish Conservation Aquaculture Program
Kootenai Tribe of Idaho and BPA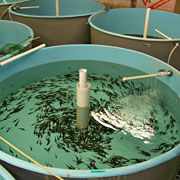 Meridian developed a Master Plan to expand the Kootenai Tribe's existing sturgeon aquaculture program, adding a state-of-the-art experimental production facility for both Kootenai white sturgeon and burbot. Burbot had not previously been cultured anywhere in the world. The Master Plan was prepared in collaboration with DJ Warren & Associates. Meridian also provided environmental compliance services in collaboration with design engineers, TetraTech. We prepared a Biological Assessment, provided technical support for BPA's NEPA compliance, and obtained all construction permits. This facility began operation in 2014.
Columbia River Hatchery Scientific Review Group
Bonneville Power Administration and NOAA Fisheries
Meridian staff provided documentation and technical support to the Hatchery Scientific Review Group (HSRG) in evaluating over 300 hatchery programs in the interior Columbia River Basin. Meridian prepared all hatchery program reports and maps to document the work of the HSRG and identify how to recover and conserve naturally spawning populations, and support sustainable fisheries.
California Hatchery Review Project
Pacific States Marine Fisheries Commission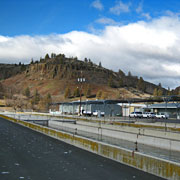 Meridian and DJ Warren & Associates were selected by the Commission to implement the direction from Congress to review all salmonid hatchery programs in California and recommend measures to modify operations to promote the recovery of natural salmonid populations. Meridian staff were responsible for compiling both hatchery and fish population information pertinent to each hatchery program, from which a select group of scientists developed hatchery reform recommendations. Meridian also provided technical editing, document production, and mapping support to the Hatchery Scientific Review Group.
Shortnose Sucker Conservation Aquaculture Assessment
US Fish and Wildlife Service
Since being listed as endangered in the Klamath River Basin, the USFWS has sought to protect the diminishing habitat of the native Lost River sucker, but now are evaluating hatchery options to preserve the species and aid in their recovery. Meridian was part of the team that evaluated eight sites throughout the basin to assess the following: a water supply that can be permitted, sufficient space for hatchery facilities and operator housing, biosecurity for a listed species, site access, and potential to obtain regulatory approval. Analyses and recommendations were provided to the USFW in 2015.
Redfish Lake Sockeye Weir Replacement
Idaho Department of Fish and Game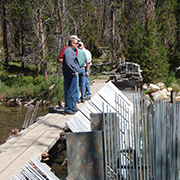 The 50-year-old adult and smolt collection weir on Redfish Lake Creek was sufficient for the few fish that returned for decades; however, IDFG's new aquaculture facility is intended to release over 500,000 Snake River Sockeye smolts to this creek, numbers that will overwhelm the facility. Meridian assessed the environmental compliance steps required for redevelopment of the weir and the addition of new support facilities. The site is in the Sawtooth National Recreation Area, on a proposed Wild and Scenic River reach, in close proximity to sensitive cultural resources and subject to special aesthetic requirements of the US Forest Service.
Cedar River Sockeye Weir Replacement
Seattle Public Utilities
Meridian is collaborating with McMillen Jacobs Engineering to assess the feasibility of alternative sockeye collection devices in support of Seattle's Cedar River Sockeye hatchery program. A safer and more effective structure is being evaluated. Meridian is assessing the environmental compliance ramifications of each alternative to recommend the most permittable option.